OUR STORY… A FAMILY FARM LEGACY FOR 4 GENERATIONS
Sharp Family Farms is a true family farm with four generations working side by side in the daily operations. Thad Sharp, Sr. began the farm legacy after marrying George and Polly Glover's daughter Eva. The Glovers owned the farm land since the 1800's, but Thad and his new bride Eva started the original farm operations in 1928. Their son Thad Sharp, Jr. began his career in 1950 and is the current President of the Corporation. Thad Jr. married Julia Brame, and they had three children, Thad Pender Sharp, III, Julia Ann Davis and Alan David Sharp. He has been very active in his community, serving on more than 12 boards and receiving numerous awards for his farming work.
FAMILY TRADITION LEGACY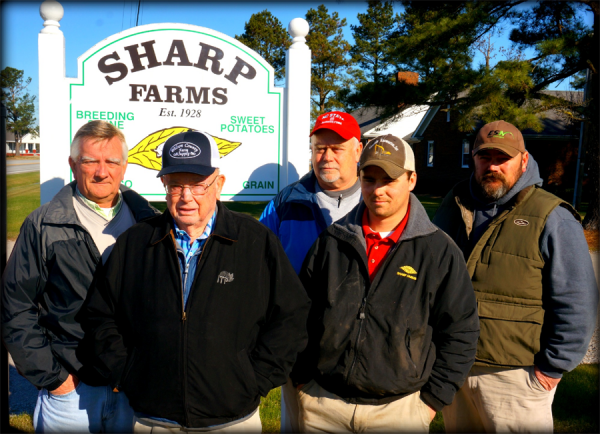 Pender, Alan, Thad, and Daniel run the day-to-day operations at the farm. Pender serves as Farm Manager and Treasurer of the Corporation, and Alan serves as the Vice President. Thad IV manages equipment and farm operations. Daniel assists with various operational tasks. The Sharp family is passionate about their community and believe in giving back. They all serve on numerous boards and have won numerous awards for their work and service.